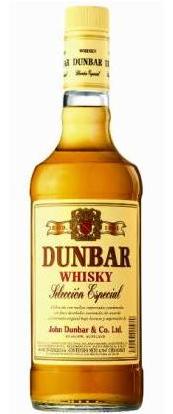 Whisky Dunbar
The Dunbar Rare Old Whisky honors the place of his birth, on the River Spey in the town of Dunbar, Scotland.
Rare Old Whisky Dunbar was born in Uruguay in 1981 being an ambassador for the Seagram's Distillery, founded in 1857, with the mission to promote the core values of the Scottish distillery, based on integrity, craftsmanship and tradition.
Whisky Dunbar, a blended Whisky produced in Uruguay
With imported malts of Scotland, and having been aged in oak for 5 years in Uruguay is a whiskey blend with optimum purity water, alcohols and a select handpicked distilled from grain to achieve the taste and character of the brand.
Expert tasters focus on determining the right time to bottle the whiskey based on the aroma, fruity flavor and unmistakable smoky characteristic. These are predefined standards that give identity and character of the brand since its inception.
Rating:
Whisky type Blended high level nationally uruguayan, but still far from its competitors Scotchs.
Direct competors: Whisky Blenders