Whisky VAT 69:
VAT 69 whiskey is produced in Scotland, the distillery "William Sanderson Ltd.". Blended whiskey is a type of grassroots Scottish tradition. Produced with dedication Scottish tradition for these drinks, looks to compete in the market "Entry Level", of imported medium-low, but with a much higher quality to their local competition.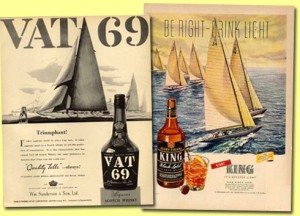 Originally from the city of West Lothian, Scotland, its name comes from the original cupping originated to define your prescription. It tells the story that 100 barrels of test, Mr William Sanderson decided that No. 69 was the best. Mr. William know extra publicity would give this whimsical number?
Initially wine bottled in barrels for a stock issue costs and currently is one of the most widespread whiskeys in our country within the lower range of Scots.
Whisky product comparision
Competition: 100 Pipers, Whisky Blenders, Whisky Dunbar
Note (1 to 10): 6 – An interesting product at a very affordable price. Those accustomed to more refined tastes will not be satisfied, but in both value, is the Scottish whiskey with a price comparable to nationals and superior quality.