Whisky 100 Pipers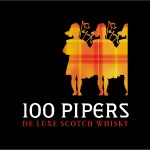 History and legend 100 Pipers whiskey:
A legend in Scotland that if you take a good whiskey, gently hear the sound of a bagpipe. But if you have the chance to take a good scotch, then the experience will be very different, 100 hear bagpipes!
Based on this story is that you decide the name 100 Pipers whiskey. The name shares history with the legendary brave battalion of 100 Pipers, who accompanied the Scottish hero "Bonnie Prince Charlie", legend has it that the sound of bagpipes bravura injected his soldiers.
Originally produced by the distillery "Chivas Brothers", is taken over by Seagrams in 1949 after the 2nd World War.
Rating: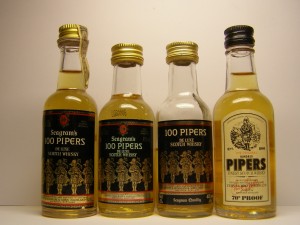 Blended whiskey is a kind, with more than 30 different types of malt whiskey. Normally 1Lt presentation, with an alcohol content of 40 °
Direct competitors:  Whisky VAT 69, Whisky Teacher's, Whisky Sir Edward's