Whisky Blenders Pride de orígen Indio: hemos tenido la posibilidad de probar esta bebida de mismo nombre, siendo el resultado la inmediata suspensión de la cata por la pésima calidad de este producto.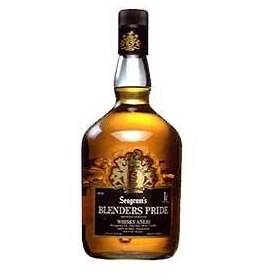 Whisky Blenders – Past and present:
The Blenders Pride is an Argentine product inspired blend of Canadian origin that dates from 1857, in Ontario, where he began producing. The "Seagram's Blenders Pride Rare Premium Whisky" is the result of over 140 years of the great tradition of the Seagram Company (Montreal, Quebec) in mixing whiskey.
An experiment:
On a hunch, the Master Blender Patrick Loots and Abby Joseph Stephen decided to launch a whiskey in particular, brought it out of the cool cellars of the distillery and exposed to the heat of the sun at regular intervals. The delicate sweetness and aromatic flavor of the mixture is testimony to the spectacular success of his experiment.
Scottish malts in Argentine territory:
From the House distilleries in Scotland Chivas Brothers imported malts and Ripened for blending with domestic grain whiskeys aged.
Theoretically the taste is fruity and floral, touch of apricots and roses in a smoky sweet ending that lingers on the palate accusing clear presence of honey which is an essential part of the mix.
The product has an alcohol content of 40% end.
Rating: Blended Whisky midlevel type compared with other products in the Argentine market. Not competes in quality with the cheapest Scotch whiskeys, if a similar option to manufacture whiskeys in Uruguay. Competition in Uruguay: Whisky Dunbar
Whisky Blenders Pride of Indian origin: we had the chance to try the drink of the same name, the result being the immediate suspension of the tasting by the poor quality of this product.