Whisky Teacher's
William Teacher: uma professora oportunista

The history of the "Teacher's Highland Scotch Whisky" begins in the mid-nineteenth century. William Teacher, cotton worker since childhood, he entered the world of beverages to marry the daughter of a merchant of the city of Glasgow and convincing him to take license for the sale of wines and spirits. While were providing wholesale customer specific blends.
One of these mixtures was very popular, and after the death of William, before long was patented by their children, starting export to the early twentieth century to the United States under the present name. In times of global war and the prohibition of alcohol in the U.S. market, the company rationed deliveries to some customer weekly measures. At such times of tight spending, the firm was found with large quantities stored, seized opportunity to be among the most widespread brands in up to 100 countries.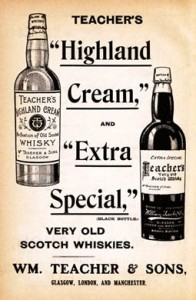 It is currently among the top five best-selling brands in England and is the leading brand in Brazil and India.
His version of six years is found in our market. Amber color and hints of pears and sherry aromatics, it can be considered as a distinguished specimen within its type and price range, beating the expectations of the consumer.