Whisky Sandy Mac
 'Sandy'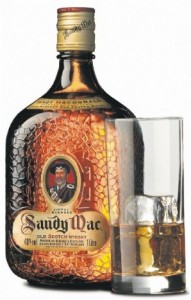 Originally MacDonald Greenlees house in the nineteenth century, is one of the lesser known pioneers of Scotch whiskey and global level. But not for the domestic market, which started shipping in 1960 marketed by Diageo, and now you dispute the quota to global brands such as Ballantines, Johnnie Walker and White Horse, the second consumed in its range of medium-high quality .
Its success can be explained in part by the attraction that causes their particular "bottle crackle", producing a strong presence in the domestic consumer's mind over the years. According to a market survey, the average consumer brand shares with the character of the success achieved with effort and low profile.
With 6 years of aging, is possessed of a sweet smoky flavor and aroma dryly, highly valued by the national palate as an option for high quality at an affordable price.