Whisky Pinwinnie Royale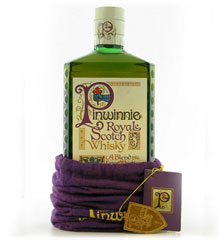 A great example of 'blend' ancient Scottish tradition. We speak of a true pioneer in the history of whiskey.
Created in the Scottish area of the same name, has its roots in the lavish distillation of 'magic potions' being made by monks in the area for the soldiers of King David I of Scotland, and in the very remote XII century.
Time after passing of the original distillery that of Inverhouse Pinwinnie was discontinued for a while until being rescued by a Thai firm, ThaiBev, having several distilleries from Southeast Asia to China, Poland, France, Ireland and Scotland itself.
With its honey-sweet scent captured in pale gold, and its striking presence, has always captivated everyone who has tried it. Today is a rarity in the market.