Whisky MacArthur's

MacArthur's Select Scotch Whisky
is a brand known for quality and held in high esteem since 1877, whose name evokes quality and tradition associated with the ancient Clan MacArthur.
James MacArthur was established in 1982 with the aim of selection of whiskeys from Scottish distilleries, which were either not well known or had stopped working and bottling barrel that force, so that the introduction of whiskey drinkers distilleries had never heard of.
This policy has been continued, with high quality bottled single barrel from a wide selection of distilleries. The whiskeys are bottled at ages ranging from 10-35 years and in both cask strength and 43% vol. These are good examples of the quality and variety available every whiskey producing region. The company has won several awards for its bottled, both internationally and in the UK, the most recent were gold awards from magazines independent manufacturers Whisky Challenge, 2006.
This mixture is appreciated by all connoisseurs who enjoy / like a smooth whiskey flavor and body but with subtle hints of barley and hardly noticeable flavor with hints of toffee and vanilla from its aging in barrel, and a vivid light golden color .
MacArthur's 12 Year Old Select Scotch Whisky.
It is the result of a perfect combination of superior whiskeys and barley malt aged in traditional oak barrels for no less than 12 years.
The result is a mild-flavored whiskey and deep golden caramel color with a distinctive smell a hint of malt with a hint of oak.
The mixture of MacArthur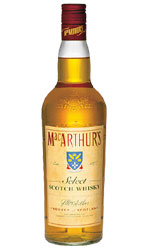 Selected regional malts and grain whiskeys above have been expertly blended to create a whiskey robust and full of flavor that has become a favorite among consumers around the world. is appreciated by connoisseurs who enjoy a medium bodied, smooth whiskey. It is a mixture gently aromatic with soft palate and lingering fresh finish.
Note: 5.5 – Good quality, is in keeping with the price, but does not reach the minimum level to be a reference product. Snacks can be companion because of its delightful and enjoyable flavor.