Whisky Buchanan's
Scotch whiskey produced in Scotland by Diageo.
Like other Scotch whiskeys, whiskey Buchanans campaign was created in Scottish, in the late 19th century.
Just in 1897, Mr. James Buchanan, in partnership with Lowrie (Blended whiskey known businessman of the time), Tauchen selected farm as a place to install a distillery.
The location was ideal for access via road or rail and provided excellent access to drinking water from a nearby stream, the Rosarie Burn.
The distillery was called "Glentauchers" and two years later (1989), the company "Glentauchers Distillery Company" was officially founded.
One goal of the distillery was to provide one of the mixtures needed for whiskey known as Black & White, but slowly, this pure strain was taking hold, and today is a prestigious whiskey, though little known.
Currently produces whiskey distillery to use as blended whiskey for Black & White and Ballantine's, keeping a small portion for sale as single malt, with the name of Buchanans.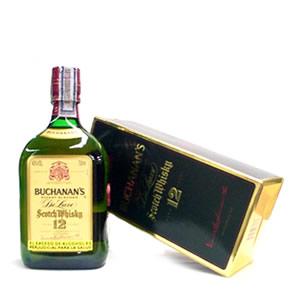 Buchanan's Whisky – Scotch Whisky Deluxe Edition 12 years
The standard presentation of Buchanan's whiskey in 0.75 l package offers a high quality whiskey, fresh, sweet, and sensual with a definite smoky aroma characteristic of the oak barrels in which it is aged. A product that combines excellent aroma and flavor in perspective. Ideal for gifts and gatherings with family and friends.
Buchanan's Whisky – Reserve Special Edition 18 years
The special edition of Buchanan's with 18 years of aging, is ideal for connoisseurs and whiskey tasters, given its fine taste and exquisite flavor. Recommended for the most demanding and exclusive stores, is ideal for premium events that require a high level of scotch whiskey.
Buchanan's Whisky – Red Seal edition
The house offers on Buchanan's edition "Red Seal" his most perfect product, inspired by Sir James Buchanan edition created in the early twentieth century, for King Edward VII of England. A single malt whiskey, aged in the same barrels which are aged for many years the best grain and malt whiskeys in Scotland. Excellent body and flavor, smoky and fruity aromas end, is presented as one of the most prestigious Scotch whiskeys in the world.