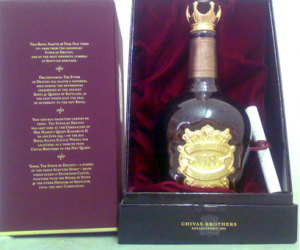 Royal Salute: luxury made ​​whiskey.
This luxury whiskey produced by Chiva's signature since 1953, is a tribute to Queen Elizabeth II crowned that year.
The name "Royal Salute" refers to the ancient tradition of the English navy of firing 21 gunshots at the time of the coronation of a new monarch.
The brand has launched in 2006 the Royal Salute "The Hundred Cask Selection", a super-premium limited edition, which now is in its 5th edition. Made from selecting the best and most aged 100 barrels of Chiva's signature under the supervision of the teacher Colin Scott, has achieved a blended whiskey tasting heavy and prolonged flavor, something highly enjoyable.
In addition to its exquisite design, the bottle is not far behind, showing hand-decorated porcelain with gold accents, honoring dinnerware sets royalty. Thus, in an extraordinary trilogy, the container and its contents, its distinctive case, identify it as a luxurious gift to those who can only admire the exclusivity made ​​whiskey.
Besides this example, there are varieties 21, 38, 50 and aged up to 62 years. All prices are range between 200 and 900 dollars. Not for anyone.
NOTE 10:
For its unique features in every sense can not be said to be comparable to other whiskeys.