Johnnie Walker Swing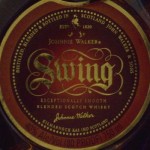 The other Johnnie:
Everyone knows the typical labels and colors of Johnnie Walker whiskeys, but not many are known to also produce this interesting issue since 1932.
Sir Alexander Walker thought and masterfully managed a product specifically dedicated to transatlantic travel most distinguished of the early twentieth century. And that character is suspended until today.
Striking convex bottom bottle, immediately invited to observe more closely. And as the name implies, was designed to hold in balance within spacecraft in choppy water. In addition, the 'swing' exercise also seems somehow transcendental so easy not to make your encounter with the consumer, it is not common to find it in any shop …
The smell appears to leave smoldering peat, combined with soft fruity aroma. The palate begins sweetly before moving on to communicate spice notes.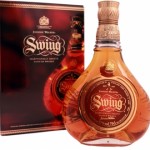 NOTE 8 – It is one of the best whiskeys to express as the most special gift to the birthday consideration. It would not compare it to another product justice.