Whisky Of Ye Monk's "El Monje"

Distilled in the Scottish city of Edinburgh from 1893 by the signing Donald Fisher Ltd., as a tribute to his first distillers, monks. He became famous for having produced the that distinguishable pottery jug bottle, in many ways, especially for collectors. Currently only classical presentation bottle, marketed by Diageo in the major markets of Japan, Italy and the Americas.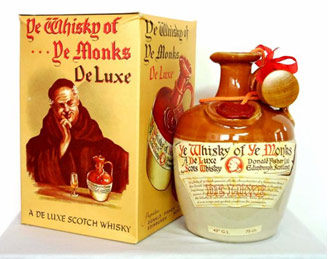 It's really funny that is so little information about this whiskey that has been so characteristic for many years in the domestic market. After a period when the product left its historic quality for unknown reasons, has returned with his pure taste, with a process of between 5 and 8 years, returning to be preferred by consumers who had switched to other brands of similar category.
NOTE: 7
According to their loyal consumers competes with VAT 69, Sir Edward's, 100 Pipers, but surpassing in delicacy of taste