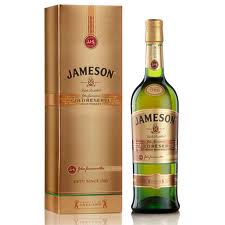 Jameson Whisky History:
John Jameson was born on October 5, 1740, in Scotland, although most people think I was Irish, but lived most of his life there. While it is an error, it was well executed by the Irish who adopted John Jameson as one. There is a popular saying that John Jameson became more Irish than the Irish themselves. Not only was recognized for his dedication to his triple distilled Irish whiskey and soft, but also, like his ancestors, was a dedicated sailor who spent much time at sea. In 1823 and in the great age of 83 years, quite an accomplishment for the 19th century, the great John Jameson died. 231 years later, triple distilled whiskey John Jameson, bearing his signature and seal, remains the world's number one Irish whiskey.
"Sine Metu"
Sine Metu means "Fearless" and is the main motto of the Jameson family for their courage in the fight against pirates on the high seas in 1500. This slogan was the inspiration for the movement of John to Dublin to make his whiskey. In 1770 began a whiskey distillery in Dublin, and in the 1940s went to Los Angeles to start a movie studio. Ireland is reputed to be where invented Scotch whiskey and Dublin was considered the best in the world. Then came John Jameson, a complete stranger, who took the great Irish tradition and managed to put their own stamp on it.
Only the best:
At the time that John Jameson established his whiskey distillery in Dublin, when he began to make his mark. For starters, insisted the best ingredients (a tradition that naturally continues to this day). He personally selected barley and barrels and had no problems whatsoever to spend money for the best.
Triple distilled: In the 18th century, most whiskeys are distilled twice, as was done in Scotland. A John Jameson was not satisfied with twice distilled and went further and insisted triple distillation, thus discovered a whiskey that was twice as soft. So why not four or five times? Would not get even softer whiskey? Surely John tried because we had to try anything in pursuit of perfection. But it turned out that the triple distillation can not be improved.
A single distillery: Thought of John Jameson was simple enough on quality, so it's no surprise that one actually set to make his whiskey distillery. This means that everything from the selection of grain and barrel, triple distillation and maturation occurred in a distillery that was supervised by John Jameson himself to ensure total quality control. The only distillery in Bow Street became famous also for social gatherings. Until today the Old Jameson Distillery continues to host these meetings, worth a visit and spend leisure time.
A chief example: You could say that working in the Old Jameson Distillery in the 1780s was to win the lottery analogy. Not only had the best wages and working conditions, but employees also had the honor of drinking with the boss. John was not one of those distant businessmen, he was happy to share their time, their profits and whiskey with each worker. All this he did well to get a better whiskey, after all, loyalty to their workers ensured quality. But in addition to this deal, John Jameson shares something else with their workers. Your label. So to this day, along with the signature of great Jameson can see two men carrying a barrel on both sides of the label, these two men symbolize the generations of men and women who have given their passion and commitment to produce the best whiskey money can buy.
Whiskys Types Jameson house specials:
-Jameson Irish Whiskey-
It all started in 1780 when John Jameson created his triple distilled, smooth Irish whiskey and he knew a thing or three about making great tasting whiskey. So today continues its tradition making sure the Irish Jameson Whiskey is always as perfect as the day John Jameson released his first cask from his Single Distillery – triple distilled, twice as smooth and perfectly balanced. features: NOSE – For the nose, Jameson has a light floral fragrance, peppered with spicy wood and a touch of sweetness. TASTE – Perfect balance of spicy, nutty and vanilla with hints of sweet sherry and exceptional smoothness. Perfectly balanced. The balance is also important. In addition triple distilled, mixed with precision the exact amount of malted barley and the exact amount of unmalted barley. The balance is also contributed by nutty flavors of our barrels of sherry scented with vanilla. Everything is in a perfectly balanced whiskey.
-Jameson Signature Reserve-
Jameson Signature Reserve celebrates the tradition of the brand, with its high Finnish boat, aged in top quality American bourbon and Spanish sherry casks. It is a sophisticated as balanced whiskey. features: NOSE – sweet, floral scent of spice notes. Some flashes of nutty, apple and nuts. TASTE – the impression is a coating of the mouth with the sweetness of heather honey. This is followed by spicy notes. Additional complexity is added with cedar and vanilla American oak. There is a touch of citrus and nuts. FINAL – A long, warm finish, sweet.
-Jameson 12 year old Special Reserve-
Bodied taste, is like a friendly handshake welcoming the world of old whiskeys. Whisky infused with sherry casks, is the best known and most popular aged Jameson. Full of great character, but wonderfully complex flavor soft toasted oak barrels of spices, sherry and its exquisite flavor is a celebration of the lasting legacies of the great Jameson whiskeys. features: NOSE – Warm, spicy, assertively complex. TASTE – Wealth of Jerez, nutty, mild woody nuances. FINAL – Rico and durable. Recent awards: 2011 San Francisco World Spirits Competition: Gold 2009 San Francisco World Spirits Competition: Gold
-Jameson Gold Reserve-
Since its inception in 1996 (when it was very difficult to get), Jameson Gold Reserve, a rich whiskey with character, has been admired by critics of whiskey. This praise is rare, as is the whiskey itself. Jameson Gold can now be found worldwide, but is still as beautiful as ever. Jameson Gold Reserve is a creative blend of three whiskeys of advanced age, one of which is the only matured in virgin oak barrels. It is the inspired choice of this virgin oak, coupled with the bourbon barrels and sherry casks, that account for the complex whiskey satisfaction and sweetness of honey toast. features: NOSE – fragrant wood with a touch of sherry sweetness. TASTE – All creamy and honey sweetness come together to create a taste sensation and spicy character. FINAL – A very long finish with a pleasantly spicy finish.
-Jameson 18 Year Old Limited Reserve-
A true original, Jameson 18 Year Old Limited Reserve is an exceptionally balanced whiskey and is the elder statesman of the Jameson family. Its mild flavor, complex and lingering finish of wood, spice and toffee have been deftly created by the Master Blender, the selection of at least three whiskeys exquisitely prepared with light, shadow and perfect environment to develop this unique blend. It has a maturity of not less than 18 years in a combination of bourbon barrels and sherry, and a final finish in fresh fill American bourbon barrels. Since its debut in 2002, stocks of Jameson 18 Year Old Limited Reserve have been, as the name suggests, limited. So any opportunity to enjoy this whiskey must be seized. Tasting Features NOSE – Aromatic oils with a touch of wood, spicy candy. TASTE – wonderfully soft mouthful of complex flavors – fudge, toffee, spice, hints of wood and leather, vanilla and nutty sweet sherry. FINAL – A long, lingering finish carries the theme of wood, spice and toffee right through.
*Jameson Rarest Vintage Reserve*
This book is the result of a rare whiskey maturing in traditional fortified wine casks. All of this magnificent reserve whiskeys are older and have an immense collage of flavors, the product of their time in the wood. The selections of grain whiskeys met with some exotic herbs and whiskey that had matured in bourbon casks, then añejaron carefully. The resulting union has a rich fruity character. features: NOSE – A true full body flavor. Initially sweet with ripe fruit notes of melon, bananas and plums. The barrels spicy character combines to give hints of molasses, cinnamon and licorice. TASTE – A mouthful of flavors. Soft sweetness and toasted wood are complemented by fruit characteristics, wealth of the barrels. A touch of cream caramel and black chocolate increases the complexity. FINAL – A long finish that covers the full spectrum of the sweetness of the fruit, through the spices to the unmistakable note of barley, where it all began.
Recent awards:
2011 San Francisco World Spirits Competition: Double Gold 2009 San Francisco World Spirits Competition: Gold International Spirits Challenge 2009: Gold Voted World's Best Irish Blended Whiskey at the 2009 World Whiskies Awards Irish Whiskey of the Year 2009 Malt Advocate Whiskey Awards